As we inch closer to the summer season, it's time to start thinking about what swimwear trends 2023 will bring. This year promises to be full of exciting and stylish options that cater to every taste and body type. From eco-conscious choices to vintage-inspired designs, the swimwear landscape is set to be more diverse and interesting than ever before.
In this article, we'll explore the most anticipated swimwear trends of 2023, offering insights into what's hot and what's not in the world of beachwear. We'll also provide tips on how to create a complete look with the right swimwear accessories and where to shop for the latest styles. So, without further ado, let's dive into the world of swimwear and get ready for a stylish summer escape.
The Rise of Sustainable Swimwear
One of the most significant trends in swimwear for 2023 is the continued rise of sustainable and eco-friendly options. More and more brands and designers are focusing on creating swimwear using recycled materials, such as fishing nets, plastic bottles, and other waste products. This approach not only helps reduce the environmental impact of the fashion industry but also results in durable, high-quality swimwear that will last for years to come.
In addition to using recycled materials, many sustainable swimwear brands are also committed to ethical production practices and fair labor standards. By choosing to support these companies, you can feel good about your swimwear purchase, knowing that it's not only stylish but also kinder to the planet and the people who made it.
Bold Prints and Patterns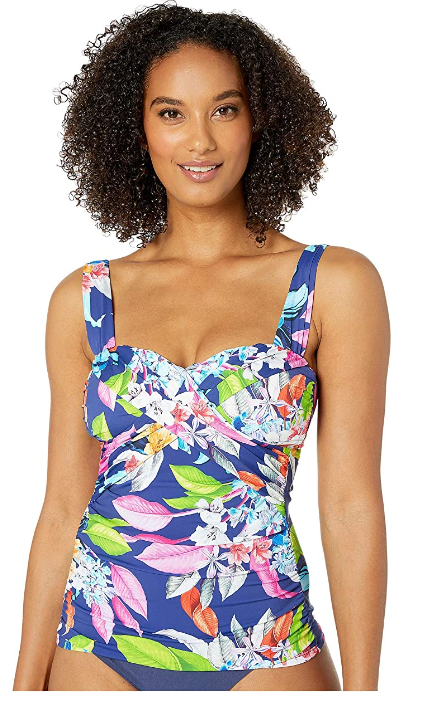 Another key trend in swimwear for 2023 is the use of bold prints and patterns. This year, you can expect to see an array of eye-catching designs, from vibrant florals and tropical motifs to geometric shapes and abstract patterns. These statement-making styles are perfect for those who want to stand out on the beach and make a splash with their swimwear.
When it comes to choosing a print or pattern, don't be afraid to go big and bold. Look for designs that are colorful, unique, and full of personality. To balance out the look, consider pairing your printed swimwear with solid-colored accessories, such as a beach cover-up, hat, or sandals.
Retro-Inspired Swimwear Styles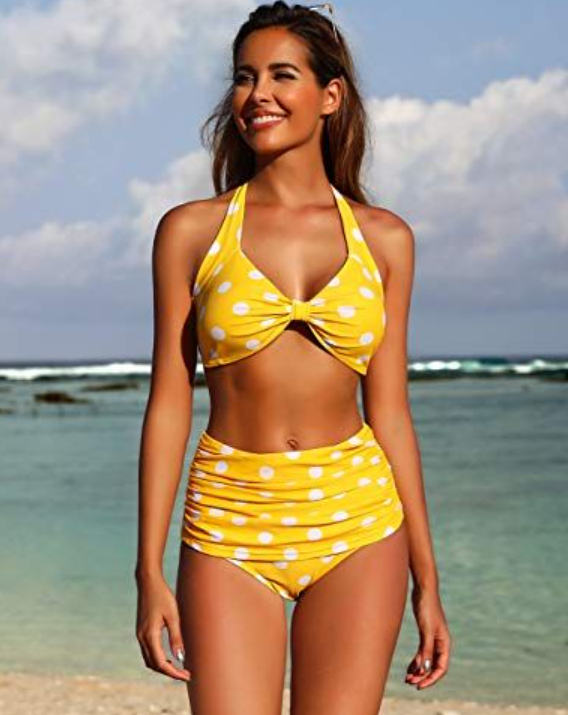 The allure of vintage fashion continues to influence swimwear trends in 2023, with retro-inspired styles making a strong comeback. From high-waisted bottoms and halter tops to ruching and pin-up silhouettes, these nostalgic designs evoke the glamour and sophistication of decades past.
One of the most popular retro trends for 2023 is the return of the classic one-piece swimsuit. With a focus on flattering cuts and feminine details, these timeless designs are perfect for those who prefer a more modest and elegant swimwear option. Look for styles with interesting necklines, such as plunging V-necks or off-the-shoulder designs, as well as unique detailing like ruffles, bows, or belts.
High-Waisted Bikinis and One-Piece Swimsuits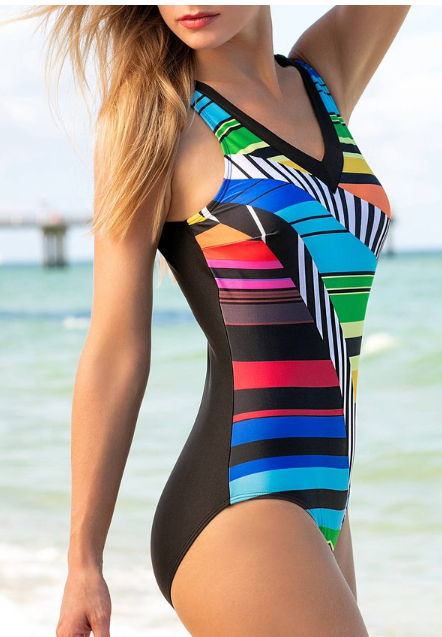 Another swimwear trend that's making waves in 2023 is the resurgence of high-waisted bikinis and one-piece swimsuits. With their figure-flattering silhouette and vintage-inspired charm, these styles are perfect for those who want to combine fashion and function in their beachwear.
High-waisted bottoms not only provide extra coverage but also help to create the illusion of an hourglass figure by cinching in the waist and elongating the legs. They come in a variety of styles, from high-cut bottoms with a retro feel too full coverage options that provide more modesty. Pair them with a crop top or a bikini top with a fun print to complete the look.
One-piece swimsuits have also made a comeback in recent years, with designers incorporating modern twists on classic designs. Look for styles with cutouts, lace-up details, and strappy backs to add a touch of edge to your swimwear. One-piece swimsuits can also be paired with shorts or a skirt to create a versatile beach outfit.
Cut-Outs and Strappy Details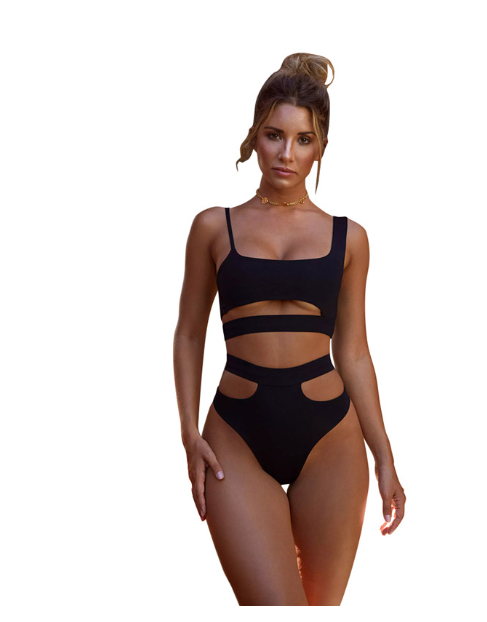 Swimwear designers in 2023 are playing with new ways to add interest to swimsuits. Cut-outs and strappy details are becoming popular ways to add some edge to swimwear. Look for cut-outs in unique shapes and patterns, such as geometric cut-outs or asymmetrical shapes. Strappy details can be found on the sides of bikini bottoms or on the back of one-piece swimsuits. These features add a playful and daring element to swimwear that is sure to turn heads.
When shopping for swimwear with cut-outs or strappy details, it's important to consider your body type. If you have a larger bust, look for styles with more substantial straps for better support. Those with a smaller bust can opt for more delicate straps and cut-outs to create the illusion of curves.
Athleisure-Inspired Swimwear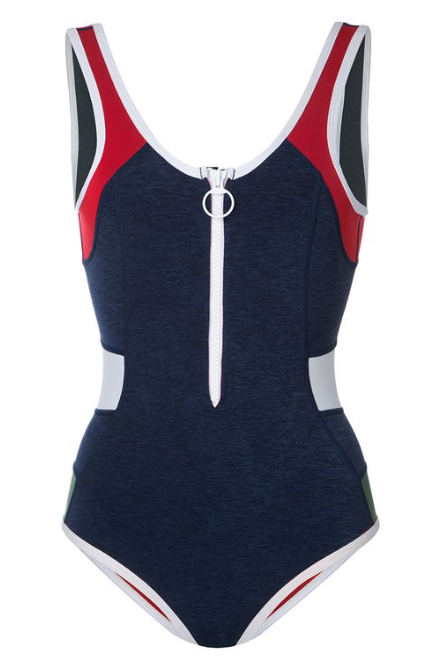 Athleisure has been a popular trend in fashion for several years, and now it's making its way into swimwear. Athleisure-inspired swimwear combines the comfort and functionality of athletic wear with the style and design of swimwear. Think sporty silhouettes, mesh panels, and breathable fabrics.
This trend is perfect for those who want to be active at the beach or pool. Look for swimwear with supportive features, such as racerback tops or high necklines, that provide coverage and support for more movement. Pair with a sporty cover-up or a pair of sneakers for a complete look.
Mix and Match Swimwear Pieces
A trend that continues to be popular in 2023 is the ability to mix and match swimwear pieces. This allows you to create a unique and personalized look that suits your style and body type. Mix and match tops and bottoms to create a variety of looks, from playful and colorful to more understated and classic.
When mixing and matching swimwear pieces, consider your body type and what styles flatter your figure. For example, those with a larger bust may want to opt for a more supportive bikini top, while those with a smaller bust can choose a more minimal style. Play with colors, prints, and textures to create a look that is all your own.
Swimwear Accessories for a Complete Look
No swimwear look is complete without the right accessories. In 2023, swimwear accessories are all about making a statement. Look for oversized sunglasses, wide-brimmed hats, and colorful cover-ups to add personality to your beach look.
When choosing accessories for your swimwear, consider the style and color of your swimsuit. Pair a bright bikini with neutral accessories, such as a white cover-up and sunglasses, for a chic and sophisticated look. For a bolder statement, choose accessories in complementary colors or prints to create a cohesive and eye-catching outfit.
Where to Shop for the Hottest Swimwear Trends of 2023
With so many swimwear trends to choose from, it can be overwhelming to know where to start shopping. Here are some of the best places to find the hottest swimwear trends of 2023:
Many swimwear brands offer a wide selection of styles online, making it easy to shop from the comfort of your own home.
Specialty swimwear stores: 
These stores offer a more curated selection of swimwear, with knowledgeable staff who can help you find the perfect fit and style.
Most department stores carry a variety of swimwear brands and styles, making it easy to compare and contrast different options.
Thrift stores and consignment shops can be great place to find vintage swimwear styles and eco-friendly options.
Conclusion: Dive into 2023's Stylish Summer Escape
The swimwear trends of 2023 offer something for everyone, from sustainable and eco-friendly options to bold prints and retro-inspired styles. By choosing swimwear that reflects your personal style and fits your body type, you can feel confident and stylish at the beach or pool.
Don't forget to accessorize with statement-making pieces, such as oversized sunglasses and colorful cover-ups, to create a complete beach look. And remember, the most important thing is to have fun and enjoy your stylish summer escape.